GurLs...
SaHih Lagi terbUkti taKde LaDieS yaNg tak jULinG biJik maTA biLa tengOk KasUt kaN? teTaMbaH yaNg goJes2 Nih..raWan jer HAti daN taNgan nIh naK meNGeLUarkaN duEt UnTuk memBeLi kaSuT..
MacaM aKu Pon aKu taK mInaT saNGat henBeG nIh..LebIh mInaT ngan Kasut..yerr..KasUt..
TaPi Tu Lah kebanyaKkan kaSut yaNg canteK tU tInggI-TiNggI beLAka..sO taK bLeh lerrr saYer naK bergaYa sakan diSebaB kan enCik sUami yaNg saNgat cOmeL itU..saYer TAk naK Lah oraNG jeLes Dan caKAp
"Look aT tHem..whAt a PreTy cOuPLe..LooKs Like niCoLe kIdmaN anD toM cRuiSe.."
(~_~')
BaikLah..KaLau puJi diri seNDiri siLer meLanguT ke LAngIt..Hehehe...
Tadi Sajer SeaRcH paSaL kaSut..TheN tetIba TiNgin pLak naK teNGok koLeksI seLEbrIti..aND the ResULt..MasYAaLLah..koMer tenGok Lah senDiri...
ChrisTina aguILera cLoseT...
Kimora Lee..
TaMara MeLLon..Dia nIh kaLAu taK siLaP co-fouNder JimmY cHoo..
From http://www.mizztissa.com
PauLa aBduL Closet..
From www.trendyshoeshop.com
MaRiah Carey..
From gracemagazine.wordpress.com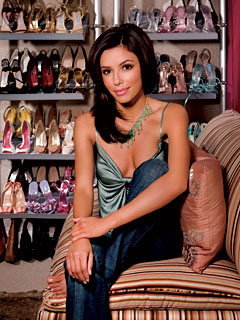 Eva LongOria..
From instyle.com
AdeiH..
PenIng aKU neNgokkaN..camNer diorang piLih kaSut ek?? kalau aKu memAng daH penIng daH naK piLih yaNg maNa...
nih Baru skit taK Larat aku Nak paSte beBanyaK..GiLer HebaT Lahhh..maCaM ner LaH peRasaaN maK aKu kaLau kaSuT aKu baNyak maCaM nIh kaN?? maU penGsaN kOt..dengAn kaSut Yang Ada SeKAraNg nIh Pon diA dah menJeriT..hahahaha..
taPi skAraNg Nih daH taK LaraT lah naK paKai tiNggI-tinggI yang runCing-RunCing tU..adaKaH seBab faKtOr penuaaN?? oWh TidaKkkk...
So seKAraNg nIh saYer cUma paKai weDgeS jer..aNd LaTeSt puNya wedGes beLi 2 buLAn LepAs tu Pon Kat ParksoN jerr...(
Wahh..KagUm..daH duA bULAn taK beLI kaSut!!
)..LagI kaGum hantaRan saYer Pon Takde KasuT..
sO iTuLAh yaNg doK beLAsaH haRi-haRi peGi keJE..betuL..dah taK TukaR daH..aKu meMAng naK beLasaH nIh saMpai LEbam..baRu beLI Lain..boLeh?? yaKin boLeh..aDaKAh inI saLAh saTu caRa ciK neYna daLAm sesi penJimaTan Duet??
hehehehe..